01 Apr

Ep. #14 Finding Your People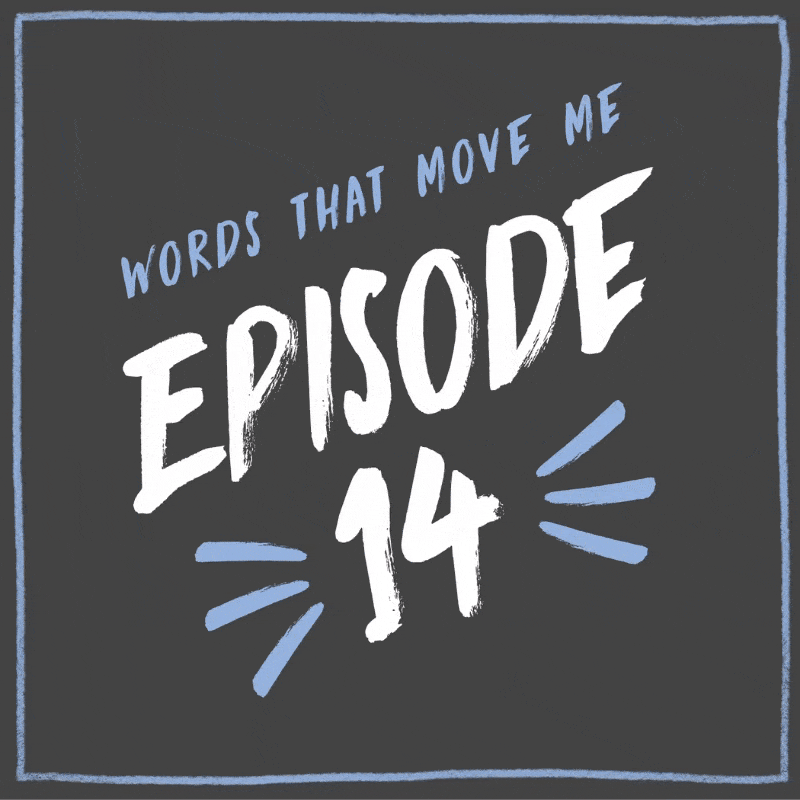 Show Notes
Quick Links:
Words That Move Me Patreon: https://www.patreon.com/WTMMPodcast
The Seaweed Sisters: https://www.theseaweedsisters.com/home
Transcript:
Intro: This is words that move me, the podcast where movers and shakers like you get the information and inspiration you need to navigate your creative career with clarity and confidence. I am your host, master mover, Dana Wilson. And if you're someone that loves to learn, laugh, and is looking to rewrite the starving artist story than sit tight, but don't stop moving because you're in the right place.
Dana: Hey buddy, how are you doing today? I hope this finds you well. I hope this finds you healthy and if you're not, I hope that this podcast brings you a tiny bit of hope, at least a handful of words of wisdom and maybe even a chuckle at some point. Okay. I got a lot of great feedback about starting every episode with wins. So here we go. My first win is that I made a delicious dinner thanks to Megan Lawson, her mom Sue and Sue's mom, Jeanie Cole, Jeanie Cole. That recipe warmed my soul. Thank you so much. Um, also, let's see. Um, Oh yeah, the seaweed sisters had a very fun virtual, um, super friends build a dance zoom conference call with 15 friends. Um, that we thought would take 40 minutes, which was cute cause we actually wound up dancing for two hours altogether in this big zoom conference. It was hysterical. It was great. It will absolutely happen again. All the friends all over the world get ready. For those of you that don't know the seaweed sisters, by the way, you will soon stay tuned. Okay, and now this one, this is a big one. Speaking of sisters, I teamed up with my sister in law who happens to be a ridiculously talented illustrator. She's the one that did the podcast logo for me. So yeah, real good reaaal good. Her name is Bree Reetz and I really suggest that you give her a follow on Instagram at B. R. E. E. dot. R. E. E. T. Z. She's so lucky. All those double E's. Anyways, together we have built a few tools for you listeners out there. One of them is what we're calling the words that move me weekly worksheets. They are digital worksheets that come with every episode and they're designed to help you process and apply specific topics from the episode. And we created a words that move me doing daily diary for all of you daily doers out there because managing a daily or even a weekly creative project as I'm learning thanks to the podcast can be really, really challenging. So this PDF is what I wish I had when I was doing my daily dances on Instagram for a year and they are designed to basically help you organize and track your progress and sort of help self evaluate. Um, I'm really jazzed about both of them. Both of them can be found on the words that move me Patreon you are only able to access these PDFs when you become a words that move me member. And the way that you do that is by going to patreon.com/WTMMpodcast and find all the different awesome, cool perks and ways that you can become a member. Okay, great. That does it for my wins. Now it's your turn. Cue the funky music. Okay.
Oh right. Congratulations! All right, one more thing. These podcasts episodes come out every Wednesday and last week on Thursday I did something really fun that I will definitely be repeating words that move me, had a live Instagram chat with me, Dana and you listeners and we discussed all sorts of topics from the episode. I answered questions, we dug deeper. It was awesome. We will definitely be doing it again, so as you're listening, please jot down any notes or questions, things that you want to discuss further and join us live on Instagram tomorrow, which if you're listening to this on the day of its release, which is April 1st then tomorrow will be Thursday, April 2nd at 5:00 PM Pacific on Instagram. You can find that at either words that move me podcast on Instagram or on my account, which is DanaDaners. Okay, let's get to it.
The topic of this episode is finding your tribe and if that phrase is a little bit confusing to you, I'll explain by saying I guess tribe in the modern sense refers to the people that you choose to connect with. These are the people that you are most comfortable with. You don't fake it with them, you know, with your tribe, you never have to try to fit in. You just are yourself and you belong. And there's a difference there. A very specific difference. These are probably people that you share values with. They don't need to be family or best friends or people that you talk to every day. Sometimes they're coworkers, sometimes they're people that you've met a couple times, but you just really fit with. These are your tribe. You have probably heard of a quote by a guy called Jim Roan who says that you are the average of the five people that you spend the most time with. Okay, well I have been doing my part to flatten the Corona curve for like 25 days now and I'm starting to wonder, am I still me when I don't spend time with other people? It's wild. Uh, but I have run a few tests and yes, I am in fact still me. Fortunately for me, and fortunately for you, if you're a person that likes me, um, but I am sort of wondering if Jim's theory is being debunked here with this social distancing quarantine situation. Because if my, we'll call it a "me"ness I guess is linked to the amount of time I spend with other people. Then am I less me when I spend less time with other people or am I more me by spending more time with myself? That's kind of what it feels like, but it's bringing up a lot of questions about togetherness and tribes and people. Like, uh, do opposites attract or do birds of a feather flock together? See what I mean? And Oh, also why am I doing a podcast about finding your tribe when most people are strongly encouraged, if not legally obligated to keep to themselves? Well, I have the answer to one of those questions. I am doing this podcast because I believe the best way to find your tribe is to connect with and find yourself.
I explained your tribe as being people that you have similar values with. Well, it would make sense then that having clearly defined values for yourself would sort of make it easier to connect with other people who have those same values. For many of us, our core values are being challenged right now, every day, especially if you're a person that values human interaction, for example. Um, so this is a really good time, I think to take a closer look at all of that. If you're sitting in thinking to yourself, uh, I don't think I know my values. What are values? Give me an example. Um, I've got you. I've got you. You can undoubtedly Google core values and find a boatload of verbs. Just mad verbs to choose from. Like creativity, as I mentioned, social interaction. Um, humor, wit, collaboration. I dunno, you name it, but I like to think of values, less of something that you would choose off a list and more as something that you would reveal to yourself. It's something that's already inside you. You just have to uncover it. So the way that I'm going to ask you to uncover it. Oh, and by the way, I would suggest that even if you think know what your core values are, you give this exercise a whirl. Okay, think of two scenarios. The first one is the best moment that ever happened in your life that you can remember. What is like your highlight the highlight, and then ask what was going on there. What were you experiencing? What was great about that?
Okay, now think of a truly awful moment, your least favorite moment, the moment you wish you could delete what was happening there, what was not happening there? More specifically. All right, so the answers to these questions should reveal several values. Now think out of those which are essential to life, which are essential to the way that you operate on a daily basis. Could you come up with like five of those values that without which you simply wouldn't be you? Okay. Those are your core values. Great. Some of my core values are humor and spontaneity, so I find a lot of tribesmen with roots in improv and comedy and acting. Shout out Liza Koshy. Dang, you're funny. Shout out Kat Burns. Holy smokes and the Raggle Taggle Dance Hour at UCB. Look out Kat Burns episode coming soon. So excited. Um, also I really value technique, style and obviously movement.
So it's no wonder that I've found most of my besties through dance. I also value boldness and variety in fashion, in art, in food, all of it. So it's no wonder that I flock to the coasts and to big cities. Now think for a second about what activities and communities run rich with your values. And I don't necessarily mean physical locations. Thanks to the internet and thanks to our lockdown, we're all getting a masterclass in finding what we're looking for and getting what we need even without leaving the house. I do believe it's possible to find your tribe from inside your home.
All right. Finding your tribe isn't just about where you are, but also how you filter. I love this quote by Klaus Kinski. I hope I'm saying that right. It's kind of fun. Klaus Kinskii he says "One should judge a man mainly by his depravities. Virtues can be faked. Depravities are real." Let's run that back one more time. One should judge a man mainly by his depravities. Virtues can be faked. Depravities are real. Let's break that down. Virtues. All right. Virtues are behaviors like, um, gentleness, sincerity, bravery, compassion. They're admirable qualities. Depravity is not a word that's used much anymore I'd like to point out, if you don't know what it means, you're not alone, but Holy smokes. If that came out on a Scrabble board, Whoa, I'd be stoked on you. Okay. Depravities are acts of wickedness or evil, like taunting, torturing, bullying, discrimination, and worse. The point of the quote is that people might pretend to be nice or trustworthy or brave or caring or compassionate, but most people are not that likely to pretend to be rude to the waiter. They don't pretend to tease or make fun of or taunt someone. They're actually doing that thing. That's just who they are. So Klaus Kinski is saying that we should use those hints when we're filtering for our tribesmen instead of the virtues. I really love this quote. It was monumental for me because as I mentioned in episode six I think, The Gift of Fear life has trained me to see the best in people and I used to be very, very quick to overlook somebody shortcomings, especially if there were virtues like talent that I could oogle over. Well, I'm a little older and a little wiser now and I know people who are at the top of their field who are as talented as they are kind. They create without destroying things and people along the way. They didn't push others down to get to the top. They actually brought people with them. They are my tribe. I prefer them, which brings me to the seaweed sisters. The seaweed sisters are my tribe, my tribesmen, my tribes, women, my tribes, weeds, tribe, sisters, trimesters. Okay. I could tell you a lot of words about the seaweed sisters, but I would really, really rather show you we are a visual spectacle to behold. The seaweed sisters are Jillian Myers, Megan Lawson and myself and we have been making all sorts of things that we're proud of for the last six years and we have more ideas than the next six years could hold. Go ahead and check out the seaweedsisters.com if I am peaking your interest here. Okay, today is April 1st, 2020 and the seaweed sisters had big plans for April, but as the great prophet Mike Tyson once said, everyone has a plan until they get punched in the mouth. Well if you're like me, the current circumstances have your teeth feeling like speed bags, but this month the podcast and I are punching back. So tell your friends to glove up. Literally you should be wearing gloves and you should definitely, definitely stop touching your face so often. Um, anyways, put your boxing gloves on because this month of podcasts go in. This episode is about finding yourself and your tribe and I'm so glad that I have found me and mine the rest of the month we're going to take some time to look at other things, Seaweed, the power of play, exploration, discovery, and serious silliness, all of which I think are tremendously important values for a time like this, you will absolutely not want to miss a single episode. So please subscribe. Don't miss a beat. And thank you so, so, so much for listening. Stay safe, stay soapy and keep it funky.
That's you are done. No. Now I'm here to remind you that all of the important people, places and things mentioned in this episode can be found on my website theDanawilson.com/podcast finally, and most importantly now you have a way to become that move on member. So kickball changeover to patreon.com/WTMMpodcast to learn more and join. Alright everybody now I'm really done. We're done. Thanks so much for listening. I'll talk to you soon.